Home | Family | Christmas Home | Christmas 98 | Christmas 99 | Christmas 2000 | Christmas 2001 | Christmas 2005 | Christmas 2008 | Christmas 2009 | Christmas 2010 | Christmas 2011

December 2011


Christmastime Greetings!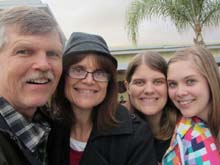 We trust this finds you well and enjoying the blessings of the Lord. Here's a snapshot of our year:

Dan continues to serve the board of directors at the denominational office of The Foursquare Church in Los Angeles. His passion is to see the church of Jesus transformed into a more simplified and organic expression. He enjoyed a business trip to Portland, Org. in October and had a great time exploring and photographing the downtown. His pastimes include working on the house and hiking in the local mountains and maintaining a hiking website and blog. A highlight of the year was Dan and Dena's trip to Honolulu, Hawaii in May to visit Micah and family and the new grandson, Solomon.

Dena continues to work for the University Libraries at Azusa Pacific University. In June she was transferred from Marshburn Library on east campus to Darling Library on west campus. With this change came new challenges. As circulation coordinator, she had to say good-bye to student workers at one library and become the boss to new group of students at another library. Making adjustments to another campus and library (that has been in a constant state of remodeling and updating since she arrived) has proved to be an enlightening experience. Dena is looking forward to a new year with all that that entails.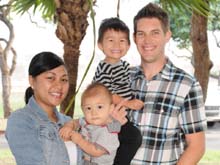 Micah, Sigrid, Azariah, Solomon have had a super fun and exciting year! Micah and Sigrid are the pastors for the youth and young adults (ages 10-30) of New Hope Honolulu, and they absolutely love it! God has been doing great things and has been so faithful! Azariah (who turned three in November) is a huge fan of Legos and toy trains, and he loves to dance the night away. So-so, as we call him (who will turn one in February), is an avid crawler, a big eater, and loves to chew on anything he can get his hands on. They also have a guest room and welcome you to come visit anytime!

Anna is in her second year of teaching junior high band in Sonora, Calif. Teaching is never boring and the kids are improving in their musicianship daily. She is involved in Sierra Bible Church on the worship team and in small groups. Anna met the sweetest man ever—Robert—who has been showing her around town. If you're looking for a tour around the beautiful Sierras, come for a visit.

Christa is in her fourth year at Azusa Pacific University and is having fun being a physical education major. She again enjoyed traveling across the U.S. this summer teaching kids about sports and God. She still coordinates the APU ministry designed to create friendships for college-age students who have intellectual disabilities and enjoys every moment. A highlight of her year was spending a week with her good friend in Toronto, Canada. Christa is looking forward to seeing what plans God has in store for her during this next year.

Words cannot express our thankfulness for God's grace and care over our lives. May this Christmastime you experience the wonderful love of God expressed toward us in Jesus Christ, and may 2012 be full of His abundant blessings upon you.

The Simpsons – Dan, Dena, Christa, Anna, Micah, Sigrid, Azariah & Solomon


Azusa, California / Sonora, California / Honolulu, Hawaii

Home | Family | Christmas Home | Christmas 98 | Christmas 99 | Christmas 2000 | Christmas 2001 | Christmas 2005 | Christmas 2008 | Christmas 2009 | Christmas 2010 | Christmas 2011