Home | Family | Christmas Home | Christmas 98 | Christmas 99 | Christmas 2000 | Christmas 2001 | Christmas 2005 | Christmas 2008 | Christmas 2009 | Christmas 2010 | Christmas 2011

December 2005


Season's Greetings!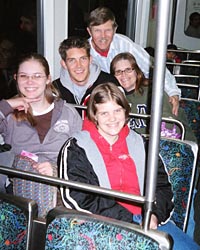 November 27, 2005 - Riding the Goldline home from the Hollywood Christmas Parade. Micah made a surprise visit home from Hawaii for Thanksgiving.

The years pass quickly and it's amazing how fast kids grow up. It's been few years since we've published a family letter, so it's time for an update. We have much to be thankful for and continually rejoice in the gracious blessings from our Lord.

Dan - After seven years working for Fuller Theological Seminary as associate director for continuing education, his position was eliminated in March 2003. After more than 25 years working in vocational Christian ministry, he took a job with a little company that publishes labor law posters. That job ended in September 2005, so Dan is now trusting the Lord to direct him back into a position which uses his passions for advancing the Kingdom of God. Dan's favorite pastime is hiking and publishing his hiking website.

Dena continues to work part time as the librarian at Hodge Elementary School where she has served for eight years. She loves her brand new beautiful library. On November 22, Dena was appointed to the Library Commission for the City of Azusa. She exercises her creative side by decorating bulletin boards at school and she looks forward to decorated Rose Parade floats every year.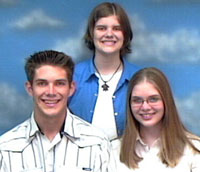 Micah enjoys living in Honolulu where he is a full-time student at Pacific Rim Bible College. He also serves as one of the leaders of the junior high youth group at New Hope Christian Fellowship. He continues playing bass guitar and is also becoming a good ukulele player. He keeps fit by surfing and playing on sports teams at the church. In April 2005, Micah traveled with a medical mission team to Sri Lanka to provide help for tsunami victims.

Anna is a sophomore at Azusa Pacific University, majoring in music. She has become an accomplished flute player and her goal is to be a band director. She also works at the university's technology help desk. Anna enjoys hanging out with friends in a church college group.

Christa is a sophomore at Gladstone High School. She plays alto saxophone in the marching band and loves working on the yearbook staff. She's a big NASCAR fan and Anaheim Angels fan. This past summer she was in a performance conservatory at Citrus College, learned to tap dance, and culminated her summer singing and dancing in a big Broadway musical.

May you have a blessed holiday season and a wonderful new year.

The Simpsons – Dan, Dena, Micah, Anna, & Christa


Azsua, California

Home | Family | Christmas Home | Christmas 98 | Christmas 99 | Christmas 2000 | Christmas 2001 | Christmas 2005 | Christmas 2008 | Christmas 2009 | Christmas 2010 | Christmas 2011