Home | Family | Christmas Home | Christmas 98 | Christmas 99 | Christmas 2000 | Christmas 2001 | Christmas 2005 | Christmas 2008 | Christmas 2009 | Christmas 2010 | Christmas 2011

December 2008


Season's Greetings!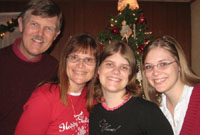 We trust you are well and blessed and are experiencing the joy of celebrating Christ's birth during this holiday season. It's been a few years since our last family letter, so we decided it was time to give our family and friends an update.

Dan is completing his second year working in the denominational office of The Foursquare Church in Los Angeles. He is greatly fulfilled in serving the board of directors in such tasks as facilitating board meetings, keeping corporate records, and helping to follow up with action items. He enjoyed business trips to Houston and New York this year. Dan's favorite pastimes are still hiking and maintaining his hiking website.

Dena - After 10 years of running the library at Hodge Elementary School, she took a leap into a new job in the library at Azusa Pacific University. As circulation coordinator she oversees about 20 student workers and has lots of responsibilities in making the library run well. She's happy in her new role and finds her work challenging. This year Dena launched into a new pastime of training for long distance running.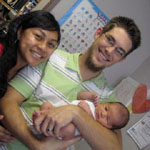 Micah and Sigrid, who got married on December 29, 2006 in beautiful Honolulu, Hawaii, had a baby boy on November 27, 2008, Azariah Manuel Simpson, weighing in at 9 lbs. 2 oz. Micah has a great time as the junior high pastor at New Hope Christian Fellowship in Honolulu. He graduate with his AA degree from Pacific Rim Bible College in May. He loves to spend his free time golfing and surfing.

Anna graduated from Azusa Pacific University in May with her B.A. in music education. She is continuing as an APU student working on her teaching credential and practicing her flute. Meanwhile she has been substitute teaching in the local school district and is being enriched by the diversity of experience.

Christa graduated from high school in June and received special recognition for her perfect attendance record. To celebrate graduation, she spent two weeks in August in Hawaii with Micah and Sig. Christa started as a freshman at APU in September majoring in athletic training and minoring in coaching. For the fall she played saxophone in the university marching band. She is excited about living in the dorms--only a mile and half from home but a world removed. Christa works in the university library, so it's fun for her to be able see Mom often.

This was a year of travel for us. It started last Christmastime with a road trip, first to Northern California to Truckee for the wedding of Dan's niece, Casey, then on to Walla Walla, Wash. for a wedding of a friend of Anna's. Lot's of fun! Our summer was highlighted by a trip to Costa Rica to celebrate Dan and Dena's 30th anniversary and the girls' graduations. We all had a great adventure and would love to travel more in the future.

God has certainly been so faithful and good to us, in hard times and in plenty. May you have a blessed holiday season and a wonderful new year!

The Simpsons – Dan, Dena, Anna, Christa, Micah, Sigrid & Azariah


Azsua, California / Honolulu, Hawaii

Home | Family | Christmas Home | Christmas 98 | Christmas 99 | Christmas 2000 | Christmas 2001 | Christmas 2005 | Christmas 2008 | Christmas 2009 | Christmas 2010 | Christmas 2011