Home | Family | Christmas Home | Christmas 98 | Christmas 99 | Christmas 2000 | Christmas 2001 | Christmas 2005 | Christmas 2008 | Christmas 2009 | Christmas 2010 Christmas 2011

December 2010


Christmastime Greetings!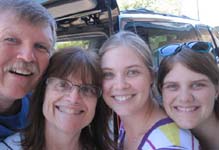 We trust this finds you well and enjoying the blessings or the Lord. Here's a snapshot of our year.

Dan continues to enjoy his work in serving the board of directors at the denominational office of The Foursquare Church in Los Angeles. As a pastime, he loves exploring L.A. and photographing the city as well as hiking in the local mountains and maintaining his hiking website. Dan is passionate about seeing the church of Jesus discover greater kingdom impact as it seeks to be transformed into a more simplified and organic expression.

Dena continues to work for the University Libraries at Azusa Pacific University and enjoys the challenges that each day brings. In June, Dena had arthroscopic surgery for a torn meniscus in her right knee. She is still in the process of regaining full range of motion and strength in her knee, going to physical therapy once or twice a week. She cannot wait to be running again, the last year has been a challenge to not be as active as she would like. Dena is looking forward to a new year filled with a new family member, traveling, and more responsibilities at work.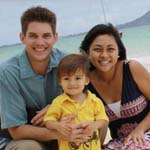 Micah, Sigrid, & Azariah have had an incredible year! And they are excited to announce that their second son is on the way, due on February 27. Last June, Micah began to pastor both the high school and junior high students of New Hope Oahu, and he loves his new role. Sigrid has been enjoying the life of a stay-at-home mom and is excited another child is on the way. She also spends time investing into the young people of the youth ministries. She is an avid reader and chef. Azariah (2 years old) has many hobbies, but his favorite things to do are play drums and play in the garden. He is also being potty trained, which means...well, you can imagine.

Anna is in her first year of teaching in Sonora, Calif. at Soulsbyville Elementary School. She teaches 6-8th grade band and helps in different places on campus. The students keep her on her toes and she is grateful to use her education every day. Anna loves her apartment and has decorated almost every inch to her liking. She is still trying to get connected in the community and find friends to help get her out of the house. Prayers for her are encouraged and needed for her to continue being a role model and an example to her students.

Christa has had a very busy and fun year. She spent two months this summer traveling the country and Haiti teaching kids about sports and God. She is in her third year as a student at Azusa Pacific University where she also works in the library and is the coordinator of the APU chapter of Best Buddies, an organization dedicated to creating friendship for people with intellectual disabilities. Christa continues to learn and grow in all her endeavors in and out of school and is excited for things to come. We are truly thankful for God's grace and care over our lives. We pray that during this Christmastime you will experience a sense of God's wonderful love for us shown in sending his son, Jesus.

The Simpsons – Dan, Dena, Christa, Anna, Micah, Sigrid & Azariah


Azusa, California / Sonora, California / Honolulu, Hawaii

Home | Family | Christmas Home | Christmas 98 | Christmas 99 | Christmas 2000 | Christmas 2001 | Christmas 2005 | Christmas 2008 | Christmas 2009 | Christmas 2010 Christmas 2011