| | |
| --- | --- |
| | |
| | |
| | |
| | |
| | |
| | |
| | |
| | |
| | |
| | |
| | |
| | Dan's Hiking Pages: Hikes in the San Gabriels and Beyond |


Moanalua Valley
S.M. Damon Estate, Honolulu, Oahu, Hawaii

Hike Report: December 30, 2006

My first hike in Hawaii was this short walk of only about 1.5 miles round trip on the S.M. Damon Estate in Moanalua Valley. This pleasant stroll along a truck trail in jungle-like surroundings delighted me. What began as a causal afternoon drive ended in a spontaneous trek giving me my first exposure to the Hawaiian backcountry of Oahu.

My family and I made our first visit to Hawaii from Southern California to attend my son's wedding on December 29. The day after the Friday night wedding in Honolulu I began to shift my focus to think about hiking in Oahu. We spent Saturday morning taking down the Christmas tree with our new family (the in-laws) and setting up the apartment for the newly weds. In the late afternoon we were to have a family barbecue, and so that left a little window midday for me to have an adventure.

We we're staying with my son's in-laws who live in a home on Likini Street in the Salt Lake area just minutes north of the airport (west end of Honolulu).

2:18 - I jump into the rental car and leave the house with the intent of just exploring the neighborhoods for a while. It's 81 degrees.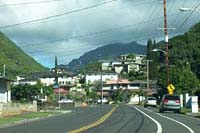 From Likini I turn onto Ala Napunani Street and head north. I pass under the 78 Freeway and turn left on Ala Aolani Street, heading north. I pass the Moanalua Golf Course as I continue through a residential area nestled in the narrow Moanalua Valley. I don't really know where I'm going but the map shows that the road ends in about 1 1/2 miles. I'm curious. The valley walls are steep and green with homes perched on the lower margins. The weather is warm and sunny with dark, low clouds hanging closely over the mountains in front of me.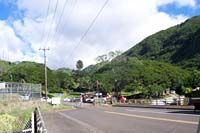 The road ends at a cute little park tucked away at the edge of civilization and the jungle. Moanalua Valley Neighborhood Park is not on the map, so I'm pleasantly surprised. Some locals enjoy a lively game of volleyball. Of course my big question: Is there some kind of trail that leads from the park upstream into the wilderness? I notice a truck path heading toward the back of the park. I follow it about 100 yards to a locked gate.

The sign reads: "NO ENTRY WITHOUT PERMISSION. NO HUNTING. Moanalua Valley (Kanananue) is privately owned by the Estate of S.M. Damon. The goal of the S.M. Damon Estate is to preserve the valley in its natural state. Permission to enter by individuals, families, and small groups should be sought from either: Estate of S.M Damon at 838-1944 or [painted out]"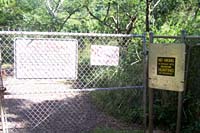 The vehicle gate is locked but there is an opening for pedestrians. I figure it wouldn't hurt to check it out.

I pass through the gate and start walking up the truck trail. I didn't even note the time because I wasn't thinking of this as a hike, just a short exploration. I told the family I'd be back by 3:00, so I figure I'd walk for five minutes before starting back.

Since being in Hawaii for a week, this is my first time in the wild. I'm immediately impressed with how jungle-like it is. The plants are green and lush and so different from my local flora in So Cal. The road is wet and a little muddy and rocky.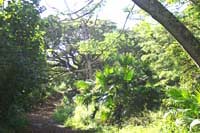 After a few minutes I realize that there is no way I can stop in just five minutes. I'm compelled to press on. The route climbs gently with a little roller coaster action. The beauty of this jungle-like surroundings amazes me. I freely snap pictures, realizing they won't really capture the full splendor of this setting.

Shortly I come across a 4x4 post with a number one. Looks like a maker for a self-guided nature walk. I wish I had the guide sheet. A couple minutes later I pass marker two, then three. A spur roads heads west.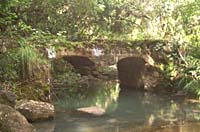 I come to a creek where the road splits. The main road veers down to the right and crosses the creek. A footpath veers to the left and crosses an old stone arch bridge. The two routes merge on the other side of the creek. I stop by the creek and click some pics and admire the rustic beauty of the bridge. I hear the sound of a motor vehicle. Hmmm, what could that be? A few moments later a pick-up truck comes from the opposite direction, heading back to the entrance. Two guys ride in the cab dressed in camouflage. Cages with dogs fill the truck bed. Oh, hunters. So that's what that sign at the gate meant: "No hiking w/without pets. Danger. Hunting (in progress)." A moment later another truck with hunters and dogs pass. I wonder what they were hunting.

I continue up the road and pass marker five (I missed number four). I come to another stone bridge. This time I walk across the bridge; the water running over the paved crossing is not passable without getting my feet wet.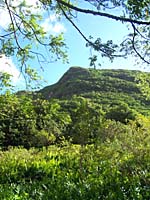 Thick jungle is broken up here and there by open spots and I get glimpses of the steep, green valley walls. The clouds still hang around the ridge tops. As the road gently climbs, I hope to reach a point where I can see views of the scenery to the north, but find none. I cross a third bridge.

My intended five-minute walk has now turned to more like 20. I want to keep going but know I need to get back home. It's past three o'clock, the time I said I would be home. I'm wondering how far I need to walk to have this officially be considered a hike.

I'm still in awe of the jungle-like surroundings. There's not a single plant I recognize. It's like being on a different planet. No oak, sage, yucca, laurel sumac, poison oak, manzanita, mustard, chemise. There are some palms but I don't know if they are native or introduced. Some of the plants look like something we might buy in the garden department at the Home Depot. There are lots of ferns and vines and soft leafy plants. I see no animals of any kind except for birds.

Before turning back I'd like to reach some kind of notable destination like a waterfall, a vista point, or an ancient temple. But there's no hint of any such landmarks. I come to a small concrete structure next to the creek that looks like some kind of gauging station. From there I can see ahead that the road splits again at another bridge.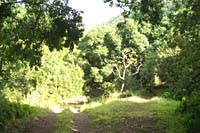 3:45 - I take a pic and decided to turn back.

As I retrace my steps I pick up my pace. I cross over the three bridges and pass by the numbered posts. The trip back seems to go much faster.

3:45 - I reach the gate, only 15 minutes from when I turned back. Thus the whole walk had to be under two miles round trip, but the richness of the walk made it seem like a five-mile hike. I notice on the gate the "No hiking...hunting in progress" sign was gone.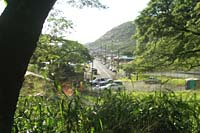 As a walk back down the road through the park I photograph a couple flowers and snap a shot of residential area below the park.

Wow, it's fun to be spontaneous. What a cool little adventure! The distance of this short walk was hardly significant enough to be rated as a hike, but certainly this hike-like saunter offered a memorable experience. The amazing beauty of this tropical paradise ignited a spark in me that I definitely must do some more hiking before leaving the island in six days.

3:51 - Leave for home. It's 77 degrees.

4:04 - Arrive for home on Likini Street. It's 81 degrees. Guests for the barbeque have not arrived yet. Everyone's on aloha time, so I'm glad I didn't rush home by three o'clock.

Epilogue - What a pleasant outing — my first experience of hiking in the topical paradise on the island of Oahu! Beautiful, warm, sunny weather, green, lush jungle, and the sense of spontaneity and adventure. It sparked a desire to do more hiking in Hawaii, and before the week ended, I did four more hikes. Hiking certainly will be top on my to-do list the next time I have the opportunity to go to Hawaii, God willing.


Related Hawaii Hiking links on Dan's Hiking Pages:
Last Hiked: December 30, 2006