Dan's Hawaiiain Adventures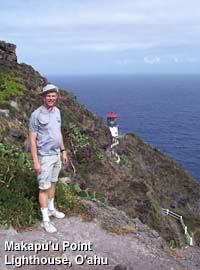 What a treat to hike on the Hawaiian Islands — hiking in paradise! It's always been my wish to visit Hawaii and enjoy a tropical vacation. It finally came true in December 2006. In June 2003, my son moved to Honolulu (on the island of Oahu) to help work with youth at New Hope Christian Fellowship. It was originally going to be just a three-month summer internship. But three months turned to six months ... and well, the rest is history. He found favor in serving in the church and made Hawaii his home. And to clinch the deal, he met a young lady, fell in love, and decided to be wed on December 29, 2006. So on Friday, December 22, we winged our way to the islands for a tropical Christmas and a wedding in paradise. And of course, I had ambitions to get in some hiking while there on Oahu.

Before our trip I went on the web to scout out some possible hikes on Oahu. I soon found that hiking in Hawaii was very different from Southern California. I read that in Hawaii lush tropical jungles cover sharp, jagged lava rock. Abundant rain makes plants wet and trails muddy and slippery. Trails are often not well marked or maintained, and in the warmer months, heat and humidity and can be punishing. This is quite a contrast from Southern California, where the climate is arid, and where in my primary hiking venue, stiff, brushy, chaparral covers mountains of granite. And I noticed that the highest peak on Oahu was only 4,046 feet high (Kaala) — a mere bump by So Cal standards.

So after reading about hiking in Hawaii, I wasn't sure how feasible it would be to do much hiking, particularly since I'd be with family (who don't hike) and would be doing a lot of site seeing and getting our son married off. So I took no hiking gear except my shorts, shirt, and hat.

We spent our first week in Honolulu being with our son and future daughter-in-law and her family, celebrating Christmas, enjoying some high-priority tourist activities (Polynesian Cultural Center, Waikiki, the Arizona Memorial at Pearl Harbor), and preparing for and participating in the most important wedding I've been to in 28 1/2 years.

Our first week culminated with my son's wedding on the evening of Friday, December 29, which was the hinge point for our trip. The next week would provide several opportunities to put my feet to the trail and experience at least a taste of hiking in Oahu.

These five outings may more appropriately be considered tourist walks rather than true hikes, but the experience of each yielded truly remarkable rewards.