| | |
| --- | --- |
| | |
| | |
| | |
| | |
| | |
| | |
| | |
| | |
| | |
| | |
| | |
| | Dan's Hiking Pages: Hikes in the San Gabriels and Beyond |


Manoa Falls / Aihualama Falls
Manoa Valley, Honolulu, Oahu, Hawaii

Hike Report: January 5, 2007

As I was preparing for my first trip to Hawaii, I made a list of things I wanted to do and see. The listed included such typical sites as the Arizona Memorial, Waikiki, Pipeline, and Diamond Head. It also included a water fall. When we arrived in O'ahu I heard about Manoa Valley and so I asked a local (my son's new brother in-law to be) about it. He said it was just a small falls of about 30 feet — nothing spectacular. So I attempted to find a worthy falls to visit. Our two weeks in Hawaii were quickly disappearing and still I had not identified a worthwhile and reasonably doable falls to visit.

It came down to our last day on the island. I realized that if I was going to visit a waterfall in O'ahu, I'd have to settle for Manoa Valley. So on Friday, January 5, our last day in Hawaii, I planned to hike Diamond Head in the morning and Manoa Falls in the afternoon. The plan worked well.

After a thoroughly enjoyable climb to the top of Diamond Head, I point my car north for the short drive up Manoa Valley.

I don't have a trail guide or driving directions, nor do I know much about the trek to Manoa Falls. But I'm good at intuiting an adventure. Using my trusty AAA map I follow the road up Manoa Valley through a charming residential area. At 0.4 mile past the housing I arrive at a junction with a sign pointing to Manoa Falls Trail. There's a parking lot that looks like it's associated with Halau Ku Mana - New Century Public Charter School. They charge $5.00 for Manoa Falls parking — a fee I'd like to avoid. So I continue to drive up the road another 0.1 mile to a junction. To the right the gate for the Manoa Falls Trail. Parking is no longer allowed here. To the left the road keeps going to Lyon Arboretum, so I keep driving. In 0.2 mile beyond the trailhead I arrive at the Lyon Arboretum parking lot. What a splendid place to explore. How serendipitous!

So I decide to visit the arboretum. I sign in at the office and pick up a map of the grounds. Immediately I notice a trail to Aihualama Falls. Ah, another water fall! The map has no legend showing distance but I presume it couldn't be too far.

1:32 - Start the hike to Aihualama Falls. A sign greets me: "Welcome to University of Hawai'i LYON ARBORETUM. All visitors must sign our liability release at the Visitor's Center. You are entering a tropical rainforest. Trials may be rough and slippery. Beware of falling branches. Proceed at your own risk, and please use common sense. You are back to nature now, and therein lies the adventure."

As I begin the walk I readily discover the truth of that sign. The arboretum is thoroughly beautiful with green, lush jungle. It's quit a contrast to the arid, brushy environment at Diamond Head, a mere five miles to the south. It had been raining so the path is muddy and slippery. I take some pics.

After a few minutes the path narrows. A sign points the way to Aihualama Falls. I step over roots and negotiate the mud and wet plants encroaching on the trial.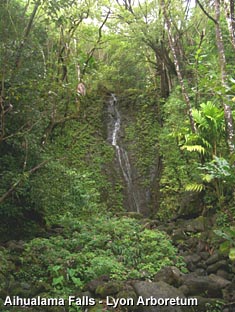 1:50 - Aihualama Falls. How nice! It's only about 20 feet tall and not a real gusher, but is quite charming. The thin stream tumbles down the face of vegetation-covered lava rock into a small green pool, framed by a lush jungle. Actually, it's what I pictured Manoa Falls to be. Ummm, could Manoa be bigger than my expectation? I want to linger and bask in the beauty of this tranquil sanctuary, but I must be on to my Manoa Falls destination.

1:58 - I leave the Aihualama Falls and head back. I maintain a brisk pace while being cautious of the slippery, uneven path. I have the jungle to myself until I encounter several visitors near the beginning of the trail.

2:18 - Back to car. I use the facilities and attempt a cell call. It starts to sprinkle. Let it rain, but I'm undeterred. I get a plastic baggie from the car and safely place in it my wallet, camera, and hike log.

2:27 - Start walking down the road to the Manoa Falls trailhead.

2:30 - Arrive at the Manoa Falls trailhead. The vehicle gate is locked but there is an opening for pedestrians. Take pics. There's some signage but no indication of how far to the falls. I have the distance of one mile in my mind, so maybe I read it some place.

2:33 - Start hike to Manoa Falls. The wide trail soon narrows.

2:35 - Cross bridge. The jungle is amazingly beautiful. The sprinkling did not turn to rain, so I'm dry, but the trail is muddy. There are others on the trail.

2:23 - Welcome sign to the Manoa Falls Trail. Another sign warns of Leptospirosis Health Hazard ("Fresh water streams and mud possibly polluted with bacteria - Swim or hike at your own risk").

The trail is wide with a gravel surface at first but gets muddier and narrow soon. Portions of the trail have steps.

2:53 - First view of falls up ahead. It's a narrow stream slicing downward through the jungle.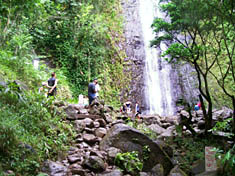 2:58 - Manoa Falls. Wow, this is big! It rivals anything I have back home in Southern California. My good-meaning friend said it was 30 feet, but this cascade looks at least 80 feet tall and provides a real show (actually, according to online descriptions, it's anywhere betwee 60 to 150 feet high).

A dozen other site seers linger at the falls. Some are playing in the water in spite of the Keep Out signs warning of the hazard from falling rocks. There was a major landslide in January 2002 where 30 tons of material fell from 600 feet above to this area. I snap some pics.

After a while, those playing below the falls leave and I get some pics of the falls without people in them. The guy who I had snap my picture for me now goes for a swim in the pool.

Just short of the viewing area is a sign pointing to a side trail, "Aihualama Falls." When I was at Aihualama Falls I had wondered if one of the trails dropped down to Manoa Falls. That answered my question. I would have followed that trail back, but the day is nearing an end and I have a plane to catch this evening, and I still need to pack.

3:18 - Leave Manoa Falls. Other visitors are coming and going on the trail. The steps along portions of the trail definitely aid the footsteps. The muddy trail surface would make negotiating some of the steeper stretches a little dicey. I take some pics of the stream which gurgles and dances below the trial.

3:41 - Welcome sign (at the 2:23 location). The jungle opens up here. The rain is holding, but still threatens. The surrounding steep, green mountains play peek-a-boo through the clouds.

3:44 - Trailhead gate. Rather than walking up the road to the parking lot, I take a short cut on the arboretum paths and snap some pics along the way. If I had time it would be nice to stroll through the arboretum gardens and admire the host of plant life.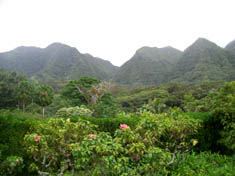 3:50 - Back to car. What a pleasant outing! On my last day in Hawaii I finally got to see a major water fall. And I got a little bonus in visiting Aihualama Falls and enjoying beautiful Lyon Arboretum.

Epilogue - What a splendid waterfall! Manoa Valley Falls is certainly a respectable site well worthy of a visit. The one-mile walk to the falls makes it very doable for most people. And the rustic path through dense jungle gives it much more the feel of a real hike than places like Diamond Head and Makapu'u Head. I'm pleased I was able to visit a waterfall before leaving the Island.


Related Hawaii Hiking links on Dan's Hiking Pages: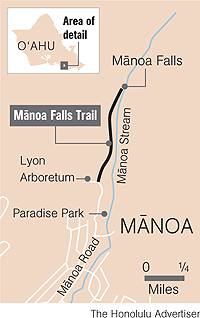 Trail Links:
Last Hiked: January 5, 2007