Bee Rock (1056') and Mt. Bell (1582')

Griffith Park / Los Angeles / Southern California

Hike Report: April 16, 2010

Bee Rock Hike Description

I so thoroughly enjoyed my hike to Beacon Hill and beyond two weeks ago, I just had to return for more. This time my destination was Bee Rock and beyond and my primary trial guide for the hike was Day Hikes Around Los Angeles by Robert Stone. I had tested out his hike description for Beacon Hill, with mixed reviews, so now I'll evaluate his Hike 27 "Bee Rock and Old Zoo Park." He lists it as a 2.2 mile loop so I figured I would extend it another couple miles on top, and Mt. Bell seemed it might be a good final destination.

3:20 p.m. - Leave my office in Echo Park driving north on Sunset Blvd. Meander my way to Los Feliz Blvd. trying some back streets to avoid the heavy traffic that is typical on Los Feliz this time of day. Turn left on Crystal Springs and drive to the ranger station which is near the trailhead. Wanted to see if they had any better trail maps from the cruddy ones I picked up a couple years ago. Beautiful visitors center.

Leave the ranger station and drive over to the merry-go-round parking lot. Since I was able last time to clear up the confusing trailhead situation, caused partly by Stone's vague and inaccurate description, I now know exactly where to start this hike. [Thankfully, in his 2012 edition, he has corrected the problems. See Book Note below.]

4:05 - Start up Fern Canyon Trail and immediately pass the first junction to the left (which Stone does not mention) and in another 40 yards turn right (north) on Old Zoo Trail. I ascend northward. The air is cool. I love the green springtime scenery. Off to the southeast I get a good view of Beacon Hill where I was two weeks ago. I can see my car in the big parking lot below.

4:12 - Reach outward bend that cuts back sharply southwest into Spring Canyon. Nice views north now. Not sure why they felt the need to plant eucalyptus tree decades ago—are not our native trees good enough? Contour along the hillside. Can see the old zoo below me and think about my planned return trip along that route. Views of Bee Rock open up. The ascent is gentle contouring around the slopes of Spring Canyon.

4:22 - Cross a creek. A spur trail cuts right following the creek down. Stop to photograph a delicate five-peddled flower that I don't know the name of. (Back at house I looked for it in the great little field guide by Ann and Gerald Croissant, Wildflowers of he San Gabriel Mountains. To my disappointment, of the 23 yellow flowers they list, this one is not among them.) Trail heading northeast now.

4:28 - Reach a trail junction at a ravine. On the right is chain link fence with a narrow path along side it heading down to the old zoo. Directly ahead the trail bends right. According to the map, it looks like that route will meet Bill Eckert Trail in about 100 yards or so. The trail on the left heads northwest up the ravine. I check Stone's trail description and he writes, "on a ridge is the Bee Rock Rock trail to the left." I'm confused. Was a use path I saw earlier heading up a ridge where I should have turned? And Stone does not mention this being a junction. Dog gone it, Robert, give accurate details! Well, if I'm reading the map correctly this is the route I should take.

4:37 - Leave junction and turn left onto Bee Rock Trail. Immediately pass a small check dam. The ascent is much steeper now. Everything is lush and green. Mature oaks provide shade. Looks like the 2007 fire did not burn this area. Can see Bill Eckert Trail across the small canyon. Stop to photograph the white blooms of eupatory, a non-native species that has made itself at home here.

4:42 - Road bends left and immediately ends. Hmmm. Stone didn't mention this. Off to the left a narrow path continues, heading south. This feels like hike real hiking now. The narrow trail is steep and the green vegetation feels almost tropical, framing some views of the urban sprawl to the east. This is really nice, very untypical of the wide dirt roads throughout the park.

4:47 - Reach a junction with a route cutting hard right. Both trails look equally traveled. I continue straight, which is the direction toward Bee Rock. Almost immediately I climb over a big rock and the route gets crude. I may have chosen wrongly. Nice views of Bee Rock now high above me. In a few minutes the trail forks again and I go right, then another fork in a couple minutes and I find myself at a good trail. I must be back on track now. Turn left now heading north. In about 30 yards I reach an ascending/descending ridge where the trail turns left (west). Good views here. Sun feels good. The route bends south and gets jungle-like again. I trip on a root and skin my knee and hand. Camera ok. Some concrete steps aid in the final pitch.

5:06 - Reach junction on ridge above Bee Rock. A turn right (west) goes a stone's throw to the paved road. I turn left and follow the chain-link fence toward Bee Rock. In a minute a second fence appears forming what looks like a cattle shoot for herding cows into a pen. I proceed through this fenced corridor with thoughts of intense appreciation to the parks department...I love being treated like livestock.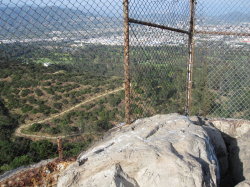 Looking east from Bee Rock. Eckert Trail in foreground with Glendale beyond. View Large Image

5:09 - Bee Rock (1056'). Great views...through a chain link fence! Many thanks to the L.A. parks department for erecting this rusted barrier, the epitome of urban grunge! Yes, there are shire drops on three sides which certainly could prove fatal if someone were to disembark from this towering massif in the wrong direction. But a 7-foot chain link fence! How about a 4-foot fence instead!? Let us enjoy this spectacular site without having to view it through a fence.

Anyway, with that said, this is a pretty amazing place. It's windy and I'm getting cold. Time to move along. Leave Bee Rock at 5:20.

5:22 - Reach the paved road, Vista Del Valle Drive. Take in the view and study maps. Put on long-sleeve shirt and move some snacks from my pack to my paints pocket. Leave at 5:31 heading northwest on the road.

5:37 - Arrive at fence across the road with "No Trespassing" signs visible from the other direction. Well, I guess I was trespassing. If they are serious about enforcing that, they need a sign where Bee Rock Trail meets the road. Pass though a hole in the fence. The junction for Bill Eckert Trail (post 14) is on the right. This will be my return route. But for now I decide to press on to Mt. Bell. I still have nearly two hours of light. Continue down paved road. Pass some steps going down to water tank #113.

5:43 - Reach junction at an inward curve. A trail heads left (south) up a small canyon (post 16). I take this trail (dirt road) as it begins to steeply climb through green vegetation up a small canyon. Pass by a power-line tower and soon the trail curves back northwest. Take picture of elderberry blossoms.

5:47 - Junction (post 39). Turn left (south). I'm traversing along the north flank of what I suppose to be Mt. Bell. A man and women walk past the opposite direction. BTW, on this whole hike I have encountered others at least every few minutes except on Bee Rock Trail, which I had to myself the entire time.

5:57 - Outward bend on the east ridge of what I presume is Mt. Bell. Great views from the north to south. I'm delighted to see my beloved L.A. downtown skyline framed by a ridge to the south. Can see Bee Rock below me. I resist lingering here knowing the views from the summit just above me should be better.

6:02 - Arrive on narrow ridge heading south toward Mt. Hollywood. Wow. Views open up to west. Mt. Lee (Hollywood sign) and Cahuenga Peak are silhouetted by the descending sun. I take the path that follows a rut ascending north toward the summit. A group of equestrians pass along the trail below. My trail contours around the east flank then around the north flank toward a saddle between this summit and another summit to the immediate northwest. I'm troubled by the other summit because only one of these summits shows up on the inadequate line maps I have, complements of the parks department, Robert Stone, and Jerry Schad. Which one is Mt. Bell?! About 40 yards short of the saddle, a path heads southeast toward the summit. I follow it to arrive at the top.

6:12 - Summit. Wow, this is awesome! Great views! But am I on Mt. Bell? There a hexagon shaped concrete structure that appears to be a bench. Metal stubs suggest that it may have been some type of gazebo or pergola in the past. I look around but see no survey marker. I'd like to linger but the sun sets in an hour and I figure I need to climb that other summit so that between the two of them I am assured of bagging Mt. Bell. Leave summit at 6:20. The footing on the descent is loose—the decomposed granite creates a ball bearing effect which can really be a pain in the butt, literally.

6:23 - Back on the road, head west and reach the saddle within a minute. A path heads up to the summit, but I continue along the road which traverses the south flank of this summit to see if there is a better route on the west side.

6:27 - Reach a junction at saddle to the west of the summit. One route heads west, another cuts sharp right heading northeast. I see no path to the summit. I ask a passer-by. He doesn't know the name of the summit but says there is a path back up the road about 50 yards, but he said the route at the other saddle is better. I walk back up the trail and found the west-approach trail. It's steep and tunnels through thick brush in places. All fours are necessarily at times.

6:36 - Mt. Bell (1582') [I confirmed its identity from a topo map at home]. Wow, this is great! Big rocks decorate the peak. An old guy is laying near a rock reading a book. I think I startled him. He does not know the name of the peak either. There is a survey marker: "First Order Survey Control. City of L.A. Department of Public Works. Burbank 1953." The view north is partially obscured by some brush. I'd love to return here when the visibility is ideal...the views would be spectacular! I ask which is the best way down and he points me to the east route, which confirms what the other guy said. Then this guy begins to tell about grand conspiracies of war and world domination and so on. I listen politely but I'm losing precious daylight. Finally I excuse myself to leave.

6:53 - Leave Mt. Bell, about 30 minutes till sunset. I descend the east route, but it starts off pretty steep and rough. It soon gets better.

6:58 - Saddle east of Mt. Bell. I retrace my steps east and then south around the other summit, at a faster pace now. I meet the guy I talked to earlier and thanked him for the tip, confirming that the east approach seems the best.

7:05 - Ridge junction south of summit. Take a picture of the sun setting behind Cahuenga Peak. Turn left and continue down dirt road northeast and retrace my route down.

7:10 - Jct. 39. Turn right. Continue down. The muted light of the setting sun casts a warm glow over Glendale far below me. I'm aware that this hike will end in the dark.

7:17 - Vista Del Valle Drive (paved road) (post 16). A group of middle-aged couples are being way too noisy. I turn right.

7:20 - Fence closing road (post 14). This is the upper terminus of Bill Eckert Trail, but there is no sign indicating it. Take a hard left unto Eckert Trail (dirt road). Pass below water tank #113. The hills have a different kind of beauty in the twilight. I can see my route meandering below me. Still enough light to walk safely. Get a preview of sprawling parklands to the north of me...lot of Griffith park still to explore.

7:27 - A spur trail veers right to knob.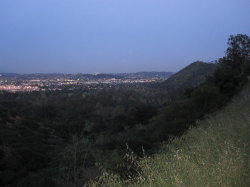 Looking southeast from Bill Eckert Trail toward Beacon Hill and Glendale. View Large Image

7:34 - The road bends back around to the southeast and passes directly above a huge water tank (#76). Now heading south with view toward Beacon Hill. City lights twinkling below.

7:40 - Bend curving west. This is the section of road that I could see so clearly on my ascent to Bee Rock. The pinnacle now stands silhouetted against the dark blue sky.

7:47 - Bill Eckert Trail junction. There is actually a sign!! I ask a guy if he could tell the most direct route back to the merry-go-round parking lot. He didn't know. A turn left would be the Mineral Wells Trail. I turn right and in two minutes I arrive at the junction of Bee Rock Trail and Old Zoo Trail. I turn left at the chain link fence, follow a narrow trail briefly, and pass through an opening in the fence to a paved road, which I presume is the top end of the old zoo. Left on the paved road heads east; right curves south. A park ranger drives by. I motion for him to stop and I ask him which is the most direct route. He directs me east. Pretty dark now. Within minutes I'm walking through a picnic area.

7:55 - Nearly reach Griffith Park Drive but stop just short and take a route heading south. Just going by intuition now. Pass through a lighted parking lot. See a coyote. A sign at south end of lot says "Merry-Go-Round." I'm going in the right direction. Reach my big parking lot. Now dark. Five cars still there. Mine is parked at the other end.

8:02 - Arrive at my car. Another enjoyable hike in Griffith Park.



Epilog - I'll definitely have to return and explore more of this section in the daylight. Jerry Schad describes a 5.9-mile loop hike that ascends the Eckert trail and winds its way over to Mt. Hollywood, follows the hogback trail and descends via Fern Canyon Trail. Maybe that will be my next adventure. Love this park!

Book Note
Since the time I first published this report, Robert Stone published a new book: Day Hikes in the Santa Monica Mountains (Day Hikes Books: Red Lodge, 2012). On Hike 3: "Bee Rock and Old Zoo Park," he has corrected the problems that are in the 2003 book and expanded his write-up, borrowing extensively from my write-up. His description and line map are now accurate and reliable.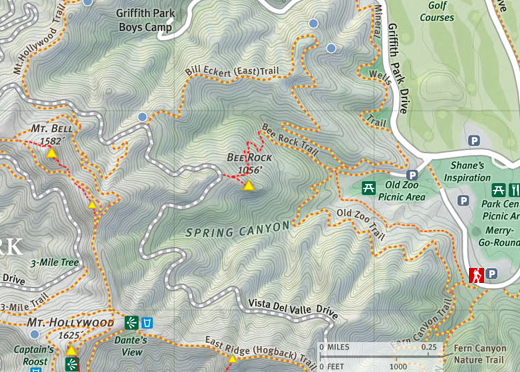 Bee Rock & Old Zoo Park Hike Description - Detailed trail guide including driving directions, recommended season, map, notes, links, and photos)



Related links on Dan's Hiking Pages:
Hiking Griffith Park - Overview and links to other hikes in Griffith Park
Griffith Park Maps - A list of links to all the hike maps on this site as well as links to various other maps of Griffith Park

Related posts on Dan's Hiking Blog:
Griffith Park Six Peaks Hike - August 5, 2010 (Bee Rock, Mt. Chapel, Mt. Bell, Mt. Hollywood, Glendale Peak, Beacon Hill via Old Zoo Park)
Beacon, Glendale, Bee in Griffith Park - November 21, 2012 (ascend Beacon Hill via the north ridge trail)
Old Zoo Park to Bee Rock and Mt. Bell - March 13, 2014
Book Note:
As I noted above in the narrative, the hike description I used for this outing was from Day Hikes Around Los Angeles by Robert Stone (Day Hikes Books: Red Lodge, 2003). Hike 27 "Bee Rock and Old Zoo Park." I am happy to report that he has corrected the problems with the hike description and published it in his Day Hikes in the Santa Monica Mountains - by Robert Stone (Day Hikes Books: Red Lodge, 2012). The updated hike description and line map are now accurate and reliable.