Griffith Park Maps

Griffith Park / Los Angeles / Southern California
The vast network of trails in Griffith Park makes having a map most advisable for hiking, particularly since there is virtually no directional signage in the park. Various maps have been made over the years, from crude hand-drawn line maps, to semi-topo maps, to beautifully printed guide maps. We have not yet, however, produced the ideal map for the hiker, but we are getting closer. With the creation of the "Tom LaBonge Map" (first map below), and with my enhancements to it (second section below), we have pretty reliable tools for navigating the park. Below that is a wide assortment of other maps that may be helpful or interesting to you.
Map and Guide of Griffith Park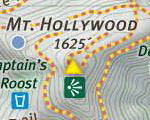 (Publish by Tom LaBonge, Councilmember, City of Los Angeles, 4th District in association with Jon Kirk Mukri, General Manager, City of Los Angeles Department of Recreation and Parks, copyright 2010 by Cartifact Inc.). It's beautifully done and has been quite helpful to to me in preparing accurate maps targeted to hikers. If you have one, keep in mind that the routes of some trails as overlaid on the topography in some places are sadly inaccurate. The other downside to the map is that it does not show some of the narrow trails such as Mulholland Ridge, trails to Mt. Chapel and Mt. Bell, the ridge route from Bronson Caves to Mt. Hollywood Drive, the north and south approach to Beacon Hill, and the lower road from the old zoo to the merry-go-round parking lot. It also leaves off some important street names like Boy Scout Road and Wonderview Drive. But it's the best map around (aside from my corrected and enhanced version below). Available from the Ranger Station and Visitor Center, 4730 Crystal Springs Drive, Los Angeles, CA 90027 / 323-913-4688.
---
Map and Guide of Griffith Park - Corrected and Enhanced

Grateful for the "Tom LaBonge Map" (above) as a starting place, yet compelled with the need for a map hikers can rely on for safe and accurate guidance, I have made significant enhancements and corrections to the map, such as adding the secondary trails (red dotted lines), correcting inaccurate routes, marking trailheads, adding labels, etc.

Area Maps: (also linked from my various hike descriptions)

---

Hileman's Recreation and Geological Map of Griffith Park
In its day, this was the go-to map for hiking in Griffith Park. It is now out of print. I have found it to be quite good. And it shows some of the narrower trails the LaBonge map omits. However, it does not show the topography aside from a few broad outlines. The mileage is shown in fractions and with 1/4 mile as the smallest unit. And it is somewhat outdated.
View map here (2400x2484 / 1.64 M) - 3rd Edition, 1986
---

Line Maps from the Park Visitor Center
Several different line maps provided by the Griffith Park Visitor Center are simply bad. The "hiking by the numbers" could be helpful if the map was more accurate and legible (it's about a 12th generation photocopy, the epitome of bureaucratic incompetence) and if trail signs which the numbers corresponded to were still around, but nearly all have long disappeared. And the horrible quality of their Trail Information sheet is astounding.
---

Line Maps from Books
Line maps in popular hiking books are helpful to a degree. But unfortunately, they are often incomplete, sometimes inaccurate, and they don't give any sense of typography. I have particularly appreciated Jerry Schad's work, which was the book that introduced me to hiking in Griffith Park.
Three Key Books:
---

LATrails.com Griffith Park
Provides a topo map of Griffith Park overlaid with the trails and roads throughout the park, including many of the narrow trails and use paths. Also provides a list of park trails including trail name, length, elevation gain, brief trail description, and trailhead location. View map here (1043x1045 / 686 K).
---

Topo Maps
A most helpful online service I have found is through Peakbagger.com. If you view a specific peak page, you can use the topo map window to access the map in various map services (Acme Mapper, MyTopo, Gmap4, MS-Research, TopoQuest, Bing Maps, MSN/Encarta, Google Maps).
View the Mount Hollywood page as a starting point to view the entire park.

View Old USGS topo map from 1900 (134 K)
---

Cartifact Inc.
Cartifact is working with the City of Los Angeles to develop Griffith Park maps for print and web publications.
---


Google Terrain Map

Online Map Services
These provide good street maps, driving directions, aerial views, terrain views, etc. Note that some of the trail names are incorrect. For example, Google mistakenly labels Lower Beacon Trail and several other trails as Mineral Wells Tr.

---
Other Maps

---

Hiking Griffith Park - Overview and links to hikes in Griffith Park