| | |
| --- | --- |
| | |
| | |
| | |
| | |
| | |
| | |
| | |
| | |
| | |
| | |
| | |
| | Dan's Hiking Pages: Hikes in the San Gabriels and Beyond |


Sturtevant Falls
Big Santa Anita Canyon / Via Chantry Flat
Angeles National Forest / Southern California
Trail Stats
Mileage (r.t.)
3.7
Trailhead
2200'
Roberts Camp
1800'
Sturtevant Falls
2100'
Total loss/gain
700'
Gain/loss per mi.
378'
In the heart of Big Santa Anita Canyon, beautiful Sturtevant Falls with its 50 feet of cascading water attracts thousands of visitors a year. The thick chaparral and lush riparian scenery offers a delightful saunter. Along the creek-side trail you are soothed by the sights and sounds of sparkling water playfully dancing and splashing under a canopy of alder, oak, bay, spruce, and willow. Ivy and vinca with its periwinkle flowers planted by early pioneers blanket large areas.

It would be hard to believe this jungle-like environment is so close to a huge population center if it weren't for the dozens of rustic cabins that line the route. The cabins were built in the early 1900s before the area was designated a National Forest. These quaint dwellings primarily see only recreational use since the Forest Service prohibits continuous occupancy of structures on leased land.

Also detracting from the canyon's primeval nature is the many check dams built by the Los Angeles County Flood Control District and the Forest Service in the early 1960s. But over the years nature has muted their intrusiveness and the sheets of water flowing over the moss-covered concrete produce a pleasant soundtrack.

Sturtevant Falls was named for canyon pioneer Wilbur M. Sturtevant, who carved out a trail in the 1890s and built his Sturtevant Camp trail resort two miles up canyon from the falls. For the decades of the "Great Hiking Era" (1895-1938) legions of hikers trod the famous Sturdevant Trail to enjoy the delights of Big Santa Anita Canyon. Weary hikers found respite at a host of trail hostelries—Jose Clark's Halfway House, First Water Camp, Roberts' Camp, Fern Lodge, Muir Lodge, Hoegee's Camp, and of course, Sturtevant Camp.

Today, one of the drawbacks of this hike is that it is partially upside down (that is, you hike down hill, than you hike up). This hike starts at Chantry Flat and heads down the paved road 0.6 mile to Roberts Camp. The rest of the hike is quite pleasant, but remember that you'll climb 400 feet out of the hole on the way back. But ending the hike by drudging up the sun-baked road does not seem to deter the throngs who visit the falls. The rewards of traversing through this splendid canyon are well worth a little upside-down hiking.

Season: November - June

As a general rule in the San Gabriels, the front range is best hiked in the cooler months, and the back range is best in the warmer months. This front-range trail can actually be hiked all year long, but will be most enjoyable in the cooler weather. If you hike this trail in the hot season, it's best to go early in the morning or late in the day. You have some nice shade along the canyon bottom, but be aware that the climb back up sun-drenched slopes can be punishing. See Seasons of the San Gabriels for a detailed description of minding the seasons.

Getting to the Trailhead:



From the Foothill Freeway (I-210) in Arcadia, take the Santa Anita Avenue exit and drive north to Chantry Flat, 4.6 miles. A National Forest Adventure Pass is required for parking. Due to popularity of hikes from Chantry Flat, the parking lot can fill up fast, particularly on weekends, so arrive early or be prepared to park along the road. Access Note: Chantry Flat is subject to periodic and extended closures. See Access Note below.


Map to trailhead:
Chantry Flat
Trail Description:

Start from the entrance of the lower parking lot at Chantry Flat. Walk past the locked gate and see a sign calling this route Gabrielino Trail. Hike north down the paved road into Big Santa Anita Canyon. After 0.6 mile you'll veer to the right, cross a foot bridge, and arrive at Roberts Camp, the confluence of Winter Creek and Big Santa Anita Canyon. Take a few minutes to read about the history of the location.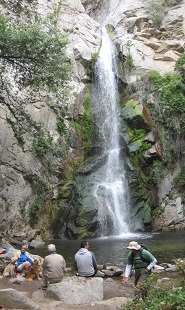 A trail sign at Roberts Camp points the way to Sturtevant Falls (1 1/4 miles). Follow the broad path east then curving north up the main canyon. The path soon narrows and you'll pass a number of rustic cabins from the early 1900s. After 0.75 mile from Roberts Camp, you reach Fern Lodge Junction. Turning left would take you to Cascade Picnic Area, Spruce Grove Campground (2 1/4), Sturdevant Camp, and beyond. But to reach the falls, continue straight ahead (the sign indicates 1/2 mile to Sturdevant Falls). In about 3 minutes the trail veers right (east) and crosses the creek. The cabin there has a sign that reads "Fiddler's Crossing." The creek crossing is a little dicey with some possibility of getting wet if you loose your footing. In another 3 or 4 minutes the trail veers left (west) and crosses the creek again, also a little dicey. In about 100 yards you arrive at a jumble of river rock marking the entry to the sanctuary of this majestic waterfall. The view of the cascade through the trees invites you closer. Carefully scramble over the rocks to get a front row seat to soak in the beauty of 50-foot Sturtevant Falls. On a pleasant-weather weekend, this immensely popular destination can host hordes of guests, so forget about solitude. Even on a weekday you'll probably share the setting with a few others.

Return the way you came.

---
Trailhead Sign at Chantry Flat



View Topo Map
(228 K)
Trail Junction Sign at Roberts Camp


~ Celebrating 25 Years ~

On May 7, 1995, I hiked my first hike from Trails of the Angeles by John W. Robinson, which I purchased on April 25, 1995. It was hike #41, Chantry Flat to Sturtevant Falls, launching my "Great Hiking Era" (a term Robinson and other historians use to describe a period in the San Gabriels from 1895 to 1938). Accompanying me on that first hike to Sturtevant Falls was my son, daughter, and their friend. I hiked to Sturtevant Falls three more times after that: March 6, 1999 with my other daughter and her Girl Scout troop; June 13, 2006 with my friend Anthony; and finally June 12, 2010 with my friend Mark. I was hoping to hike to Sturtevant Falls on May 7, 2020 on the 25-year anniversary, but the pandemic closed the forest. Hopefully sometime this year I'll get to return.


See my 25-year anniversary Facebook post.
Trail Notes:
Access Note: Chanter Flat has been subject various closures over the years. The torrential rains of January 2005 caused major damage to the road to Chantry Flat forcing its closure (see photo). Bureaucratic incompetence between the three agencies that have jurisdiction over the road to Chantry delayed its reopening for well over a year. They even closed Chantry for the repair of picnic tables! Chantry Flat was finally reopened in summer 2006. The road continues to be subject to periodic and extended closures. See the Forest Service website for supposed updates, but realize that they are generally unreliable in providing timely information to the public. Best to call them at 626-574-5200 or the Sierra Madre Police Department at 626-355-1414.
Read Tribune Editorials:
- Chantry Flat road closure taking too long (2-7-05)
- A taste of paradise (6-10-06)
Mileage Note (round trip): Robinson: 3 miles, 500' gain. Brown: 3.2 miles, 600' gain. Schad: 3.4 miles, 700' gain. McKinney: 3.5 miles, 500' gain. Trail signs: 3.7 and 4.0. Amazing! You would think that with such an immensely popular trail, there could be some agreement! I've used 3.7 based on the trail sign at Roberts Camp (0.6 + 1.25 x 2). I'd rather error in over stating the mileage than understating it. I wouldn't want a young family with small children to think they were going on a 3-mile walk and having it end up close to 4 miles.
Alternate Route: One option to avoid most of the paved road to Roberts Camp is take the First Water Trail. The signed junction is 0.2 mile down the road. The trail descends 0.45 mile to the canyon bottom, then follows the creek up to Roberts Camp, another 0.75 mile. See my Hermit Falls hike description for details.
People Traffic: This is an immensely popular trail, so plan to encounter lots of people. I've been to Chantry Flat on weekends when the parking lot was full and the hike to Strutevant Falls seemed like walking through the mall at Christmastime.
Related links on Dan's Hiking Pages:
Trails of the Angeles: 100 Hikes in the San Gabriels - by John Robinson with Doug Christiansen (Wilderness Press: Berkley, 8th Edition, April 2005). Hike 41, "Chantry Flat to Sturtevant Falls." Good trail description with historical background. His other descriptions of hikes from Chantry Flat go into much more historical detail. He puts the hike at 3.4 miles round trip and 500 feet elevation gain. Driving Note: Robinson states that the distance from the Foothill Freeway to Chantry Flat is 6 miles. My odometer reads 4.6.
Afoot and Afield in Los Angeles County - by Jerry Schad (Wilderness Press: Berkley) - Area A-6, Trip 3: "Sturtevant Falls." Good trail description with historical background. He puts the hike at 3.4 miles round trip and 700 feet elevation gain.
Los Angeles County: A Day Hiker's Guide - by John McKinney (The Trailmaster, 2006). "Big Santa Anita Canon." Historical background and good trail descriptions for Sturdevant Falls (3.5 miltes r.t., 500-foot gain), Spruce Grove Camp (8 miles r.t. 1,400-foot gain), and Mt. Wilson (16 miles r.t., 4,000-foot gain).
California Waterfalls - by Ann Marie Brown (Moon, 2011). "Sturtevant Falls." Good trail description. A guide to 200 waterfalls in California. She puts the hike at 3.2 miles round trip and 600 feet elevation gain.
Last Hiked: June 12, 2010
---
Home | About | Hikes/Trails | Hike Log | Photos | Hiking Tips |
Inspiration | News | Links



Hiking in the San Gabriels by Dan Simpson |


Dan's Hiking Blog
Contact Dan Simpson
Entire contents © 2003-2020 Daniel E. Simpson
This page was last updated May 16, 2020.