| | |
| --- | --- |
| | |
| | |
| | |
| | |
| | |
| | |
| | |
| | |
| | |
| | |
| | |
| | Dan's Hiking Pages: Hikes in the San Gabriels and Beyond |

Potato Mountain (3422')

via Evey Canyon / San Antonio Canyon
Angeles National Forest / Southern California
Trail Stats
Mileage
5.0
Trailhead
2310'
Potato Mt.
3422'
Total gain/loss
1200'
Gain/loss per mi.
480'
This is not one of those trips you would put on your must-hike list. But if you live within a reasonable drive from the Claremont area, and have a couple spare hours, you may enjoy trekking to the top of the tater. The trip is entirely on a wide fire road used a lot by mountain bikers.

Before the devastating Williams Fire of September 2002, the first couple miles of the trip to Potato Mountain was a sylvan delight. But the roaring inferno ravaged through the foothills above Glendora, San Dimas, and Claremont charring 37,000 acres of beautiful chaparral-covered hillsides and shady riparian canyons. The fire baked Potato Mountain. But life is returning and time is softening the devastated terrain.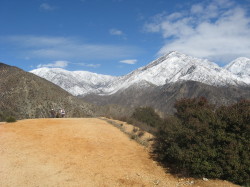 Looking north from Potato Mt. toward Mt. Baldy (left), Ontario Peak, and Cucamonga Peak, covered with fresh snow. Two hikers and a dog come up the trail.

At 3422 feet, Potato Mountain stands guard over the western slopes of the mouth of San Antonio Canyon above Claremont. On a clear day, you are rewarded with great summit views of the suburban sprawl of Pomona Valley and beyond to the ocean. But you don't want to taste this potato on hot summer day unless you want to be French-fried. The last mile climbs steeply under the baking sun. The first mile and a half traveling up Evey Canyon still offers some woodsy experience even though it was badly burned.

Access Permit:



In the 1920s, Evey Canyon was purchased by Herman Garner, who sought to save the pristine environment from development. After his death in 1983, the land was deeded to Pomona College (one of the Claremont Colleges) Department of Biology with the condition that it be left in a natural state. Today, the Herman Garner Biological Preserve is used by the college for field research and as an outdoor classroom. A permit is required for entry into Evey Canyon. You may obtain this permit for free by calling the college at 909-607-2993. They will mail you the permit (in duplicate) and you are required to return a copy to them. The hiker, biker or jogger agrees that he or she "will not deposit any litter, nor use any fire, including smoking; nor discharge any firearm, nor allow any dog to run off a leash; nor harm or collect any wild animal or plant, nor collect any rock, log or other inanimate object without prior permission." With the permit you will receive a photo-copied map and a hike description adapted from Hike Los Angeles, Vol II, by Dennis Gagnon. The permit is valid through December 31 of that year.

Season: November - May

Potato Mountain is best visited in the winter or early spring. I found it to be a most pleasant hike on a cool but sunny late February morning. Clear skies afforded grand views. No flowers were in bloom but the snow on Mt. Baldy and Cucamonga Peak was glistening. Frankly, this would be a dreadful hike on a hot summer day: smog, haze, heat, blistering sun, brown hillsides. If you go in the summer, try daybreak or early evening.

Getting to the Trailhead:



From the new I-210 Freeway extension, exit Baseline Road in Claremont. Go west on Baseline and turn right (north) onto Padua Avenue. In 1.7 miles turn right onto Mt. Baldy Road (stop sign). After 1.5 miles (about 0.3 miles past San Antonio Dam) you'll see roadside turnouts on your left and right. The hike begins on your left (west) at the locked vehicle gate.

From the I-10 Freeway, exit on Indian Hill Blvd in Claremont. Head north to Foothill Blvd and turn right. Turn left on Mills Avenue. In a couple miles it veers right to become Mount Baldy Road. After the stop sign at Padua Avenue, continue 1.5 miles (about 0.3 miles past San Antonio Dam) you'll see roadside turnouts on your left and right. The hike begins on your left (west) at the locked vehicle gate.

Since you are just outside the forest boundary, no National Forest Adventure Pass is needed.

Trail Description:



Walk past the locked vehicle gate and follow the wide fire road as it begins a brief descent to the right into Evey Canyon. The road then turns west with the canyon and follows along the south slope above the creek. On my visit in late February, the stream gurgled and danced its way down the canyon, providing a pleasant soundtrack for our trek. The mature, stately alders that had once lined the water course are now nothing but dead trunks. Most of the oaks that had provided such a lush canopy of shade were burned by the fire, but many weren't killed and new life is springing from the blackened branches. View before and after image. The road-cut yields some interesting visual display in the rock.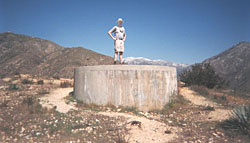 Dan on top of the Tater - Snow-capped Mt. Baldy stands to the north in the background.

After about 1.7 miles of walking along Evey Motorway, you reach a junction at a saddle. The road, marked 1N04, begins to descend to the west, but you will take a sharp left turn unto the road that heads southeast to the summit. After a couple minutes the road dips down to a small saddle and you can see where mountain bikers have worn a route along the steep ridge to the top. Continue on the road as it climbs the north and northeast flank of Potato Mountain. As you near the top, the road bends to the right then in a couple minutes the road bends left to achieve the summit. The concrete water tank provides a nice spot for enjoying the vistas.

The 180-degree panorama to the south is striking, if it's clear. The mass of human habitation blanketing the landscape has an eerie beauty to it. This is one of those hikes where a street map and binoculars can aid your gazing. Natural features poke out above the sprawl. To the east, Southern California's highest mountains— San Gorgonio (11,499') and San Jacinto (10,804')—rise majestically on the horizon. Thirty-five miles south, Saddleback (Modjeska Peak, 5469' and Santiago Peak, 5687') stands as Orange County's high point. To the immediate west, Johnstone Peak (3201') and its neighboring hills above San Dimas block views toward the western San Gabriels. If you are a peak bagger and lover of the high country, don't look to the north where the 5,000- to 10,000-foot mountains loom above you, prompting you to wonder why you climbed to this tater tot. If you do glance that way, you'll see our beloved Mt. Baldy (10,064') prominently enjoying its position as the third highest mountain in the Southland. Looking below to your immediate south from your roost on Potato Mountain is Chicken Canyon. Hmmm ... chicken and potatoes.

After savoring the scenery from this splendid perch, return the way you came.

Hike Log
Potato Mountain
1-28-08

12:00
A: Trailhead (1200')
12:28/:34
B: Junction
12:37
C: Ridge Saddle
12:58/1:35
D: Pototo Mt. (3422')
1:51
C: Ridge Saddle
Shortcut down ravine
1:55
Road
2:28
A: Trailhead (1200')
Summary:
52 minutes up
53 minutes down


View Full Topo Map
(476 K)
View Medium Topo Map
(188 K)
Trail Notes:
Related link on Dan's Hiking Pages:
eTreking.com - Brief trail description for Potato Mountain. Provides trail descriptions for 35 hikes in the San Gabriels, all on one page. It appears that eTreking merely rewrote hike descriptions from others such as John Robinson.
Hike to Potato Mt. via Evey Canyon - November 2004. San Dimas High School, Mr. Elliot's A.P. Environmental Science Field Trip. Display of 53 photos with some captions.
BikeGods.org - Photos and tongue-in-check narrative of bike ride to Potato Mt., 5-13-00. It appears they took the route from Palmer Canyon. The photos give a glimpse of what the scenery was like before the Williams Fire. Note: I don't endorse the idea of these guys promoting themselves as gods.
Books:
Los Angeles County: A Day Hiker's Guide - by John McKinney (The Trailmaster, 2006). "Potato Mountain: Evey Canyon Trail." Brief historical background and good trail description. Puts hike at 5 miles round trip with 1000 feet in gain. Previously published in Wild L.A.: A Day Hiker's Guide (2003), now out of print (This edition did not take into account the Williams Fire of September 2002 and the new I-210 freeway which opened prior to publication).
Hike Los Angeles, Vol. II - by Denise R. Gagnon (Western Tanager Press). "Potato Mountain." Good historical background and trail description. I have not seen a copy of the book either in bookstores or in local libraries. Tom Chester describes it: "136 pages, 1992, Santa Cruz, CA: Western Tanager Press Volume 2. Contains high country, foothill, and cityside walks in the front range of the San Gabriel Mountains, the San Fernando Valley, and East Los Angeles." Pomona College provides a copy of Gagnon's write-up with the access permit.
Last Hiked: January 26, 2008