| | |
| --- | --- |
| | |
| | |
| | |
| | |
| | |
| | |
| | |
| | |
| | |
| | |
| | |
| | Dan's Hiking Pages: Hikes in the San Gabriels and Beyond |

Jerry Schad


Jerry Schad passed away on September 22, 2011.
Read my tribute
on Dan's Hiking Blog.

He was written up so many hundreds of trails for hiking, biking, and running in Southern California, I have a hard time imagining he has a life outside of his trail ventures and writing. But the book jacket says he is a professor of physical science at San Diego Mesa College.

He was written at least 13 books. The one most relevant to hiking the San Gabriels is Afoot and Afield in Los Angeles County (Wilderness Press, Second Edition, Sept. 2000). He covers 192 hikes, 99 of which he includes under Angeles Forest, and another 4 under San Gabriel Valley which actually are part of the San Gabriels. The majority of these hikes are written up by Robinson, although both authors present some hikes that the other doesn't.

Expanded Review: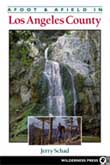 Afoot and Afield in Los Angeles County
by Jerry Schad
(Wilderness Press, Second Edition, Sept. 2000)

Content:
The book begins with a 10-page section, "Introducing Los Angeles County," six pages of "Health, Safety, and Courtesy," two pages of Where and When to Go and How to Avoid the Smog," and five pages of how to use the book. Then he presents 192 hikes in 32 areas in five regions: Coastline, Basin and Foothills, Santa Monica Mountains, Angeles Forest, and Santa Catalina Island.

Each hike comprises two sections: The top section with all the vital stats, and the main body of the write up.

1. The top of each hike has the following:
- Trip number
- Hike name (brief, usually just the destination but not the trailhead)
- Distance (miles, to the tenth)
- Total elevation gain/loss
- Hiking time (in hours, usually rounded to the hour)
- Optional map (USGS Quadrangle)
- Best Times (season)
- Agency
- Difficulty (from one to five stars)

He also uses 12 icons to represent such things as terrain, marked trail vs. navigation by map and compass, point-to point vs. out and back, suitable for mountain biking, dogs, kids, etc.

I rarely look at any of the icons, the hiking time, classification, or agency. I primarily look at the destination, the distance, and elevation gain. However, I'm not riding a bike or hiking with dogs or children. But certainly there are those for whom this information is helpful.

2. Main Body
Gives background and summary information, driving directions, and a description of the hike.

My observations and critique:
Schad's hike descriptions are solid. He has a good flare for words, which adds some spice to the write-ups. I like how Schad throughout the hike description includes the accumulative mileage (to the tenth) for various points along the way. This makes it very helpful in planning hikes and variations. Whereas Robinson is often vague, and sometimes inaccurate.

Schad sometimes includes historical tidbits, but he doesn't compare to Robinson in giving the background.

Schad breaks up each region by areas. For example, the 99 trips listed under Angeles Forest are divided up into 14 areas, ranging from 2 to 14 hikes each. This is helpful. He also has a simple line map for each area, which is useful, but for me, not nearly as beneficial as Robinson's large topo-style map. Certainly Schad's approach to providing a map is more cost effective for the publisher. Although, if you loose or wear out Robinson's map, it costs half the price of the book to replace it.



On the Internet: Many of the hikes from Jerry Schad's books are published in his
Roam-O-Rama series
at SanDiegoReader.com.
Summary:
Afoot and Afield in Los Angeles County
192 hikes in Los Angeles area, 103 of them in the San Gabriels
Brief historical background on some hikes
Attention to mileage accuracy and lots of quick-view summery elements
Simple line maps for each area
340 pages. 100 Photos. Retail $16.95.
My Recommendation:
If you will be hiking all over Los Angeles County (rather than primarily in the San Gabriels), Schad's book is an excellent value. If you are hiking primarily in the San Gabriels, Robinson is still my top recommendation.

View publisher write-up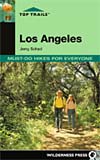 Review:
Top Trails Los Angeles
by Jerry Schad
(Wilderness Press,1st Edition March 2004)

It appears that editor Joe Walowski collected what they deem as the "best trails" from Schad's other works. Covers 48 trails, 17 trials in the San Gabriels, most of which are included in Afoot and Afield in Los Angeles County. Even though the title says "Los Angeles," the book more closely parallels Schad's 101 Hikes in Southern California, covering trails in the Santa Monica Mountains, San Gabriel Mountains, San Bernardino Mountains, San Jacinto Mountains, Orange County and Cleveland National Forest.

Top Trails adds a lot of user-friendly features and treats presentations in a similar same way as Robinson, dividing the description into sections: Introduction, Best Time, Finding the Trail, and Trail Description (the same format I've been using on this website). The "Trail Milestones," highlighted in the text and summarized in the chart, nicely display the mileage points. Particularly helpful is a table at the beginning of the book that lists the hikes and uses icons in 30 columns to show an array of information about each hike: difficulty, miles, type, and more info in 7 categories: uses, access, terrain, water, flora & fauna, exposure, other.

I really like the format of the book. However with only 48 trails, it can't compare to Afoot and Afield in Los Angeles County with its 192 hikes, 103 in the San Gabriels.

My Recommendation:
Top Trails Los Angeles is an excellent book, but even with all its new features, Afoot and Afield in Los Angeles County is still the your best choose if you are primarily hiking in the Los Angeles area.

View publisher write-up



Back to Books Page