| | |
| --- | --- |
| | |
| | |
| | |
| | |
| | |
| | |
| | |
| | |
| | |
| | |
| | |
| | Dan's Hiking Pages: Hikes in the San Gabriels and Beyond |

Mt. Baldy (10,064)
via the Ski Hut Trail (Baldy Bowl Trail)
Angeles National Forest / Southern California
Trail Stats
Mileage (r.t.)
8.4
Trailhead
6160'
Baldy Summit
10,064'
Total gain
3900'
Gain per mi.
928'
As the weekend arrived, I knew I needed to do at least some hiking to keep conditioned for next weekend's backpacking trip to removed deadfalls from the Twin Peaks Trail. So on Saturday evening I decide to climb Mt. Baldy. And I decided to go up and back on the Ski Hut Trail (formally the Baldy Bowl Trail), my favorite route up Ol' Baldy. It's been a year and it's a great summer peak.

5:30 a.m., Sunday - Arise without alarm. Get ready and leave my house in Azusa at 6:18, and 30 miles later arrive at the trailhead at Manker Flats about 7:00. There are dozens of cars and several parties of hikers getting ready to start. I take some pics while waiting for one of the two porta-potties. The temperature was not brisk as I had anticipated.

7:10 - Begin hike. The gentle climb of the service road for the first mile is a nice warm-up preparing for the ascent ahead. I'm anxious to check out the water flow in San Antonio Falls. I arrive and see it's flowing but not spectacular.

7:33 - Ski Hut Trail jct. Some hikers keep walking up the road. An older Asian man starts up the trail in front of me, carrying a coffee cup from McDonald's. I start up the trail and sign in at the registry box. My pace is slow as hikers pass me. The scenery is grand. I pass the Asian man with his coffee. Later on he passed me, still carrying his coffee.

After a while I meet up with a hiker named Ted. He is carrying a full-size pack and conditioning for a Sierra trek. We hike together and enjoy good conversation.

8:50 - Ski hut. Chat with several hikers. One of their dogs is wearing doggie hiking boots! They leave a bit later. Ted and I leave the hut at 9:05.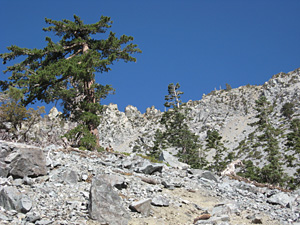 Traversing the "rock garden" at the lower edge of Baldy Bowl always yields spectacular scenery above. We reach the west canyon wall and zigzag the web of trails that steeply climb to the ridge. I ponder why can't someone build a decent trail here?

9:43 / 9:53 - Ridge. We rest for a few minutes and chat with a couple passing by.

9:58 - Part company. I know my pace is going to be slower than Ted's climbing the steep ridge, so I wish him well to go on without me. Take some pics and chat with another hiker. Meet 72-year-old Ron Young. This is his 68th trip up Baldy! Wow! His first ascent was at age 40.

The route gets steep. It's not so much of a trail as it is a well-worn use path, snaking its way up the broad ridge, reminding me of the famous Lombard Street in San Francisco. The sun is warm but not punishing hot. I meet Prosey, a Filipino American and avid hiker with an exquisite smile. She's training for some big hikes. I enjoy good company with her.

10:57 - As the trial gets really steep, I take a pic of Prosey as I let her leave me behind. The scenery is fantastic. I rest a lot, obviously not as in shape as I thought.

11:17 - Baldy Bowl Trail sign - I guess it's here maybe to suggest to hikers that this is a trail and not just a scramble over boulders.

11:30 / 3:38 - Side detour 50 yards east to the lip of Baldy Bowl. Awesome views!

11:40 / 11:58 - Flat area that appears to have served as a superb campsite over the years. I stroll over to the edge for another view of Baldy Bowl. More pics. Back to the trail I have a snack.

On the trail, the route starts to get a little less steep as it begins another "Lombard" zigzag up the summit skirt. I pass Prosey as she's on her way down.

12:19 / 12:28 - My thighs start to cramp. Hmmm, I don't remember ever having this problem before. I've climbed this and comparable summits many times without difficulty. Maybe it's the elevation—it's been nearly a year since I've hiked in the high country.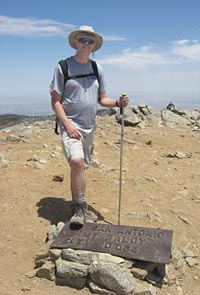 12:38 - Mount San Antonio summit (10,064'). Wow, what a grand mountain! Not many people up here, about 14 (other times I've been here there's been more than 50). Ted's not here, so I guess he passed me on his way down as I took a side trip. I soak in the vistas and chat with other summiteers. The sun is warm and the breeze is nearly non-existent. Thunder clouds brood over desert as the news had forecast. Have some lunch. Meet a man with his 12 year-old son. The lad's first visit to Baldy was when he was 7! Enjoy swapping some hiking stories with Chris. Dave and his lady hiking companion, Keiko, report seeing a bighorn sheep movements ago. They named him Mangus. Chris and I follow them to the side to see if we can get a glimpse. The bighorn is long gone. I'm disappointed. I ask Dave to email me the photo and he gives me his business card. [View photo below] Chris and I finish swapping stories. Clouds forming overhead prompt me to start down.

2:10 - Leave the summit and head down the same way. Snap some plant pics along the way. The muted light aids the plant photography. Do some more exploring around the "campsite" and enjoy some more striking views of Baldy Bowl.

2:55 - Sign. Seven minutes later I reach the place where the rocky cliffs end and the broad ridge divide begins. I stroll about 30 yards to the cliff and discover a perilous rock chute that looks like it may have had some traffic. Is this a route daredevils take to access the top of the massive scree slope of Baldy Bowl? Vertical slide streaks down the face of the bowl visible from below suggest some kamikazes have taken an adventurous shortcut.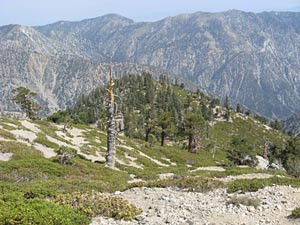 3:10 - Back to the trail and begin the zigzag decent down the board ridge weaving through the manzanita and bush chinquapin. Still wondering why someone can't build a decent trail here. But I can't complain about majestic scenery. More plant pics and movies of surrounds.

3:36 - Ridge point where trail cuts east down the canyon's west slope. After a snack I head down. I hear a couple other hikers behind me. Near the bottom I pause to let them pass. One of them chides a young hiker for cutting a switchback. Traversing the "rock garden" I replace the batteries in my camera and snaps some more plant and scenery pics.

4:27 / 4:38 - Ski hut. Use little hut behind the hut. More plant pics.

The spring-fed creek below the hut hosts an array of blooming wildflowers. Take lots of pics. My descent is slow as my legs and feet are feeling the affects of a long, no-nonsense hike. The sun hides behind thickening clouds. Feeling a little alone as only one hiker passed me going down since the hut, and no one else coming up. Take some pics of dried yucca blooms. The waters of San Antonio creek come to ear.

5:41 - While taking pics, my 2.0GB camera disk gets full. Boy, I've really gone picture crazy on this hike! The memory drain must be from the increased number of movie clips I've been shooting on the way down.

6:08 - Road junction. What a nice change of pace to finally be on a gently descending surface! Pass some walkers heading up the road. A dozen people play at the base of the falls.

6:30 - End hike. What a day! I didn't bother to note the number of cars, but there wasn't many. Old Baldy always delivers a superb hiking experience.

Hike Log
Mt. Baldy
via the Ski Hut Trail
7-22-07

7:10 am
A: Trailhead (6160')
7:23
B: Falls switchback
7:33
C: Trail junction (6610')
8:50/9:05
D: Ski hut (8200')
9:43/9:53
E: Ridge (9000')
11:30/11:58
F: Side track to Bowl lip
12:38/2:10
G: Baldy summit (10,064')
2:37/2:42
F: Side track to Bowl lip
3:36/3:43
E: Ridge (9000')
4:27/4:38
D: Ski hut (8200')
6:08
C: Trail junction (6610')
6:15
B: Falls switchback
6:30
A: Trailhead (6160')
View Slide Show
on my Flickr site

View Topo Map


A Nelson bighorn sheep on Mt. Baldy, July 22, 2007. Photo by Dave Sparling.


Looking northwest at the back end of the Sierra Club Ski Hut (8200').
Related links on Dan's Hiking Pages:
Last Hiked: July 22, 2007