Hoegees Camp Loop Hike
Big Santa Anita Canyon / Winter Creek/ Via Chantry Flat
Angeles National Forest / Southern California
Trail Stats
Mileage
5.1
Trailhead
2200'
Roberts Camp
1800'
Upper Winter Creek
Trail high point
2880'
Total loss/gain
1080'
Gain/loss per mi.
424'
The headwaters of Winter Creek begin at Mt. Wilson and Mt. Harvard and flow east into Big Santa Anita Canyon. Lovely Winter Creek offers some of the most delightful hiking in the front range of the San Gabriels. Even on a warm summer day, the thick riparian forest of the canyon floor renders shade and relief from the pounding sun on the slopes above. The cool, sparkling water in Winter Creek dances playfully over check dams and down the canyon, providing relaxing background music for your stroll through this sylvan sanctuary.

This particular hike is a variation of some the possibilities that are described in popular hiking guides. Most of the hikes in Big Santa Anita Canyon are going be at least partially upside-down (that is, you hike down hill, than you hike up). I usually avoid upside-down hikes, but the rewards of traversing through this splendid canyon are well worth a little upside-down hiking.

This hike starts at Chantry Flat and heads down the paved road, following the first section of the Gabrielino Trail to Roberts Camp. Then it ascends Lower Winter Creek to Hoegees Campground. Next it climbs steadily up the south slope of Winter Creek, following the Upper Winter Creek Trail. After some climbing, the trail gracefully descends back to Chantry Flat. One benefit of doing the loop hike in this direction is that you start the hike going downhill on a paved road in open sun, and than do the climbing in the welcoming shade of Winter Creek and north-facing slopes (rather than ending the hike by drugging up the sun-baked road).

Season:

John Robinson rates this hike as November through June while Jerry Schad rates it as all year. I found the climate to be fine hiking the trail in late June in the middle of a hot day (91 degrees in the San Gabriel Valley) — warm but not bad.

Getting to the Trailhead:



From the Foothill Freeway (I-210) in Arcadia, take the Santa Anita Avenue exit and drive north to Chantry Flat, 4.6 miles. A National Forest Adventure Pass is required for parking. The vehicle gate for Chantry Flat Road is open from 6:00 A.M. to 6:00 p.m. (as of about 6-19-06. It used to be 6:00 A.M. to 10:00 P.M.). Access Note: Due to destructive weather and bureaucratic incompetence, Chantry Flat is subject to periodic and extended closures. Best to check with the Forest Service (626-574-5200) or the Sierra Madre Police Department (626-355-1414) before hitting the trail. See Access Note below.

Trail Description:



Start from the entrance of the lower parking lot at Chantry Flat. Walk past the locked gate and see a sign calling this route the Gabrielino Trail. Hike down the paved road into Big Santa Anita Canyon. After .6 mile you reach Roberts Camp, the confluence of Winter Creek and Big Santa Anita. Take a few minutes to read about the history of the location. An option for this hike would be a trip to beautiful Sturdevant Falls, adding another 2.5 miles to your trip (see Sturtevant Falls hike description). But to continue on your loop, note that the trail sign points the way to the Winter Creek Trail. Follow the trail upstream, west. In route you'll cross the creek about seven times as you enjoy a canopy of alder, oak, bay, spruce, sycamore, and willow. Watch out for poison oak and stinging nettles. Along the way you'll pass rustic cabins dating from the early 1900s. I counted 10 up to Hoegees.

After 1.5 miles from Roberts camp (2.1 miles from the trailhead), you reach Hoegees Campground. This trail camp, popular with Boy Scouts, sits on a shady nook next to Winter Creek, featuring picnic tables, fire rings, wood stoves, and outhouses.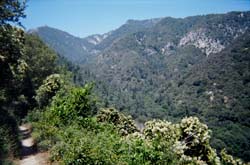 Looking back northwest into Big Santa Anita Canyon toward Mt. Wilson.

The Upper Winter Creek Trail continues from the upper end of the campground on the right. Immediately cross the creek and climb past the check dam up the slope, and after 1/8 mile (4 minutes) you reach the Lower Zion Trail Junction. Continue left, and in another few minutes, you'll cross the creek and come to the trail junction to Mt. Wilson, on the right. Continue straight and follow the Upper Winter Creek Trail as it climbs southeast up the steep south slope of Winter Creek. Through the trees, you began to get glimpses of the ridges above and the canyons below. After about seven minutes the trail dips downhill for a few minutes, then back up, and after another ten minutes you start your decent, heading downhill all the way to Chantry Flat, 3 miles from Hoegees. Stay alert for poison oak. Sections of shade are a nice reprieve from the sections of open sun. The well-traveled, single-track Upper Winter Creek Trail ends at the paved San Olene service road. The sign reads 2.5 miles to Hoegees, 6.8 to Mt. Wilson. Go left on the road, and follow it down past the picnic area at the south end of the upper parking lot of Chantry Flat, about half mile.

---
Optional route: Santa Anita Ridge and San Olene Road
If you feel adventuresome and would like to add 3 or 4 miles and a wider variety of scenery to your hike, here's two options. Above Hoegees Camp and beyond the Mt. Zion Trail junction is a trail junction to Mt. Wilson. Rather than going straight (on the Upper Winter Creek Trail to Chantry Flat), turn right (west) and follow the trail ascending toward Mt. Wilson. You'll pass through some of the richest and most dense forest in the front range, dominated by oak and bay with a sprinkling of spruce. Poison oak abounds, requiring long pants or plenty of vigilance to avoid it. You'll huff and puff as you zigzag the north-facing slope. In 1.5 miles you reach a signed junction (Mt. Wilson 3 Mi.; Mt. Wilson Trail Jct 3/4 mi.; these both point to the left, but someone crossed them out and pointed them to the right. The 3/4 refers to the old Mt. Wilson Trail ascending from little Santa Anita Canyon and intersecting Manzanita Ridge). Turn left, following the less-followed path about 30 yards to a low point on the ridge (3920+'). You'll have striking views down into Little Santa Anita Canyon and across to Hastings Ridge and Jones Peak.

From this ridge you have two options. One is to return back down the trail and finish your hike on the Upper Winter Creek Trail to Chantry Flat, 4.25 miles from where you stand (total hike distance: 8.1miles). The other option is to turn left and follow the undulating ridge east and south toward the San Olene service road (1.3 miles) and then follow the road back to Chantry Flat (3.75 miles) (total hike distance 9.0 miles). This cross-country ridge route follows an old fire break and is steep with loose footing in places. You'll wade through thick brush at times, so long pants are in order. The roller-coaster path takes you over several knobs. You'll have some nice views of the back range, including Twin Peaks, Mt. Islip, Hawkins Ridge, and to the west, Monrovia Peak. At high point 4101 the ridge curves south and generally descends as you go up and over several more knobs, 3755, 3760+, and 3583. From here you have a clear view down to the San Olene communications equipment. The trail down from knob 3583 gets wider and shows signs of heavier use. Just past the San Olene water tank, a service road cuts back left (north). Follow this wide dirt road down 3.75 miles to Chantry Flat. The last 0.7 mile past the Chantry Flat Heliport (2477') is on paved road.



Last Hiked: June 18, 2006
---
Hike Log
Hoegees Loop Hike
6-27-03

10:10 AM
A: Trailhead (2200')
10:19/:30
B: Roberts Camp (1800')
11:13/:40
C: Hoegees Camp (2560')
11:44/:50
D: Lower Zion Trail jct
11:55/12:00
E: Mt. Wilson Trail jct
12:17
Highest point on trail (2880')
12:51
First view of Chantry Flat
1:10/:17
F: Upper Winter Creek trailhead
At San Olene Road
1:28
G: Chantry Flat
Locked gate at beginning of San Orlene Road

The Trail Junction Sign
at Roberts Camp:



(pointing north and south)
Gabrielino Tail
<-- Chantry .6
Sturtevant Falls 1 1/4 -->
Spruce Grove campgroud 3.1 -->
Mt. Wilson 6.4 -->
(pointing east and west)
<-- First Water 3/4
Hoegees Campground 1 1/2 -->
Mt. Wilson 6 1/4 -->
Chantry Flat 5 1/5 -->

Note: The 5 1/2 miles to Chantry seems to be in error. It should be 4 1/2. The sign states 1 1/2 to Hoegees and the signs at both ends of Upper Winter Creek Trail states 3 miles from Hoegees to Chantry.

View Topo Map
(364 K)
Trail Notes:
Access Note - 6-13-06: Chantry Flat now open. After years of closure, the trailhead is now open again as of June 3, 2005. The torrential rains of January 2005 caused major damage to the road to Chantry Flat forcing its closure (see photo). According to the Forest Service the road was supposed to be reopened on April 15, 2006. Then they said more rains have damaged the road again and it won't be opened until the end of the summer 2006. But now it's open. There are still two sections of the road that narrows to a single lane, yet to be repaired. So anticipate more closures to come. See the Forest Service Web site for supposed updates, but realize that they are grossely inept in providing timely information to the public. Best to call them at 626-574-5200.
Read Tribune Editorials:
- Chantry Flat road closure taking too long (2-7-05)
- A taste of paradise (6-10-06)
Bugs: 6-27-03 - There were lots of bugs and mosquitoes, particularly in the section from Roberts Camp up Winter Creek to the Mt. Wilson trail junction above Hoegees. I had hoped to enjoy my lunch and read a trail book while sitting at a picnic table in the cool shade at Hoegees. However, the mosquitoes were eating me alive. I had no repellant and so ate my lunch on my feet while dancing around swatting the pests.
6-18-06 - Lots bugs and mosquitos on the Winter Creek Trail, but my REI Jungle Juice (95% deet) worked great.
Creek crossings: Because of the numerous creek crossing with no bridges, you'll want to avoid this route after a heavy rain.
Permits: Parking - A National Forest Adventure Pass is required. Fires - Even though there are fire rings and wood stoves at Hoegees Campground, be sure to check with the ranger as to any current fire restrictions that may be in effect.
Topo map note: The USGS map shows the lower Mt. Zion Trail meeting the Winter Creek Trail below (east) Hoegees Campground. However, the trails actually intersect above (west) the campground.
Alternate route: One option to avoid most of the paved road to Roberts Camp is presented by Jerry Schad (Afoot and Afield in Los Angeles County, Area A-6, Trip 2), adding about a half mile and 200 feet of elevation loss and gain. Schad writes: [On the paved road descending from Chantry] "After rounding the first sharp bend (0.2), veer right onto an unmarked trail (First Water Trail) [Actually the trail IS marked with a sign].... Descend on the precipitous switchbacks (watch your step!) to the stream below, [to] First Water Camp... Turn left (upstream) and follow the rudiments of a trail... to the confluence of Big Santa Anita Canyon and Winter Creek [Roberts Camp]."
Robinson: Elements of this hike are described by John Robinson in Trails of the Angeles, as hikes 41 through 44. Robinson's historical tidbits of the area enhance the hiker's appreciation of the Big Santa Anita Canyon of yesteryear. Note, Robinson states that the mileage from the Foothill Freeway to Chantry Flat is 6 miles. My odometer reads 4.6.
People Traffic: 6-27-03 - I hiked this trail on a summer Friday and had the trail from Roberts Camp to Hoegees and Upper Winter Creek Trail virtually to myself, only encountering one party: about 15 minutes before reaching San Olene Fire Road, a couple passed me going the other direction. I met a father and two sons just starting up trail at the San Olene trailhead. At the start of the hike two parties of two were coming up, and I passed a lady going down. Twelve people total. And there was a few people in the near-empty parking lot, finishing or starting hikes. I've been to Chantry Flat on weekends when the parking lot was full and the hike to Strutevant Falls seemed like walking through the mall at Christmastime.
6-18-06 - On a Father's Day late afternoon, I encountered lots of people who were coming up the road from Roberts Camp as I was going down. Lots more at Roberts Camp. But on the Winter Creek Trail to Hoegees, I encountered only three people in one party early on. The rest of the hike I had to myself except for a group of 5 nosy Latino teens on bikes who thought they were on a roller coaster at Magic Mountain rather then in a sylvan sanctuary in the San Gabriel Mountains.
Rainfall record: Hoegees Camp has the distinction of holding California's Record Rainfall for a 24-hour period. It was 26.12 inches occurring January 22-23, 1943. See LosAngelesAlmanac.com.
Related links on Dan's Hiking Pages:
Afoot and Afield in Los Angeles County - by Jerry Schad (Wilderness Press: Berkley) - Area A-6, Trip 2: Hoegees Loop. Good trail description with historical background. His route is a little longer since it takes the First Water Trail rather then descending directly to Roberts Camp.
Trails of the Angeles: 100 Hikes in the San Gabriels - by John Robinson with Doug Christiansen (Wilderness Press: Berkley, 8th Edition, April 2005). See hikes 41 through 44. Good trail descriptions with historical background.
Los Angeles County: A Day Hiker's Guide - by John McKinney (The Trailmaster, 2006). "Winter Creek." Brief historical background and good trail description. Correction: He mistakenly places the distance at 6 miles (it's actually 5.1) and the evevation gain at 300' (it's actually at 1080'!).
Last Hiked: June 18, 2006 (Chantry to Roberts to Hoegees)
Last Hiked: June 27, 2003 (full loop)