Student Dies After Jumping Into Pool at Hermit Falls
November 12, 2013, Tuesday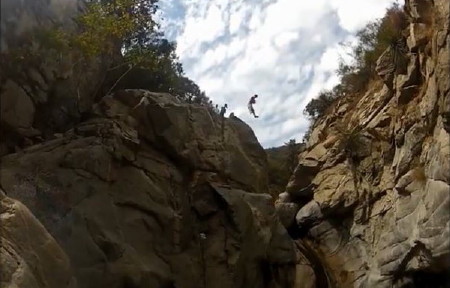 Example of cliff jumping at Hermit Falls

ANGELES NATIONAL FOREST - A Cal State Fullerton student, 19-year-old Kevin La, died after jumping from some rocks into a pool of water at Hermit Falls in Big Santa Anita Canyon on Monday.

La was with a group of 12 other college students on Veterans Day when several of them decided to jump into the water from the adjacent rocks. La was the sixth one to jump. Witnesses report that La landed in the water, but when he surfaced he appeared to be unconscious. Group members pulled La from water and performed CPR while others attempted to use their cellphones to call for help. La was declared dead when he arrived at Huntington Memorial Hospital via helicopter, deputies said.

The incident, which happened shortly after 2 p.m., is reported as an accident and an autopsy is pending, Coroner Ed Winter said.

Hermit Falls in the San Gabriel Mountains has become a well-known spot where thrill seekers often participate in cliff jumping. The cliffs rise 50 feet above natural pools. The waterfalls, about a 1.4-mile downhill ramble from Chantry Flat near Arcadia, has seen many injuries, owing in part to its growing popularity on social media such as YouTube. From Yelp to YouTube to Instagram, Hermit Falls is often cited as a great spot for cliff jumping.

"Ever since Facebook and Youtube came out, people started posting videos of jumping down there. And a whole lot of people have been coming in to go do that—what they see on YouTube," said Camron Stone, a construction worker who works on cabins in the canyon.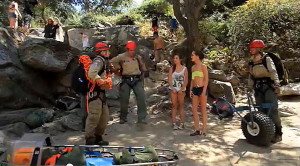 Search and rescue personnel respond to a call at Hermit Falls - June 15, 2013

Rescue workers echoed the same sentiment.

"We've seen more calls in the past couple of years at Hermit Falls than we have historically over time. To a large extent, we believe it's due to social media," said Rob Klusman, an operations leader for Sierra Madre Search and Rescue.

"Right now weĠre responding to about a hundred search and rescue calls per year," Klusman said. "Hermit Falls represents a fairly substantial portion of the calls that we respond to." He said the team received 14 calls for people needing help at Hermit Falls in 2012. So far this year, they've already responded to 17 calls.

People who are familiar with the area said that many visitors are unfamiliar with the dangers that it poses.

"It is not a city park. It is wild land," said Sherry Rollman, public affairs officer for the Angeles National Forest. "We can't always go out and put up a chain link fence or fence off an area, because it would just be torn down, or people would go out and find some other way to access the areas."

Rollman said that the forest service does try to educate people before they head out. It's done ad campaigns and public service announcements trying to get visitors to realize that they need to take special precautions when visiting. "There is a certain element of risk involved in going out and enjoying the great outdoors," she said.

Visitors to Hermit Falls report that the site is often littered with trash, broken bottles, and graffiti.

Blogger Kelly, a transplant from Oregon, gives the following account from her visit to Hermit Falls on Saturday, July 28, 2012:

Once we got to the actual swimming hole at Hermit Falls, my heart sank. It was like all the ugly stereotypes of what young Californians are like were playing out in front of my eyes! Not to mention the graffiti and litter everywhere, including where we were swimming. As U.S. Forest Service officials finished cutting down a hazardous tree, one summed up my thoughts by asking "what is this, the douchebag convention?"

YES, IT WAS!

As the aroma of mari-huana filled the warm afternoon air, drunk, stoned, high, and/or otherwise generally idiotic people jumped from rocks anywhere from 15-60 feet from the water. Never mind the fact that by 2 p.m. that day three people had been airlifted out after jumping. Never mind the fact that someone is severely injured or killed there at least once a week, according to one of the officials I talked to.

Ugh. It was so gross!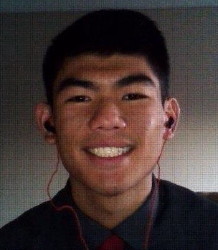 Kevin La died on Monday, November 11 after jumping from a cliff into a pool at Hermit Falls.

Friends and family on Tuesday mourned the unexpected death of La, Throughout the day, La's pals on Twitter, Facebook and Instagram sent out "RIP Kevin La" posts.

Friends have created a Facebook page in La's memory.

"I'm going to miss his smile," friend Jean To said. "That smile brought joy to a lot of people's faces. He brought smiles to people who were going through tough times."

"You always knew how to go hard or go home," a user identified as Lyly Tran tweeted. "U were so funny to mess with! U'll be missed for sure dude. RIP Kevin La."

Derek Do, one of La's roommates, said he was shocked when he heard the news. Do, 19, met La in the seventh grade at Garvey Intermediate Elementary School in Rosemead. They parted ways when La went to Mark Keppel High School in Alhambra, but Do said the two kept in touch. All the time they spent playing trading card games and video games built a tight connection.

"He was always cheerful," said Do, adding that the two had been roommates in Fullerton for about two years.

La, a kinesiology major at Cal State Fullerton, found a new family in the fraternity Alpha Phi Omega, Do said. The fraternity helped make college "the best years of his life" and transformed La into the cheerful person La became because it helped him forget his past and unhappy high school memories, Do said.

"He had a lot of adrenaline and a lot of pride, and when he saw someone do it, he thought maybe I could do it, too. It's that adrenaline rush," Do said.


---
The above account was compiled from the following news stories, none of which was adequate to tell the story:

Dead hiker ID'd as Kevin La, former Mark Keppel student
By Ruby Gonzales, San Gabriel Valley Tribune,
and Zen Vuong, Pasadena Star-News, 11/12/13, 9:17 AM PST

Student Dies After Jumping From Rocks Into Mountain Pool
By Anthony Kurzweil, KTLA5, 11-12-13

Hermit Falls death: Social media driving increase in cliff-jumping incidents
By Jed Kim, 89.3 KPCC Southern California Public Radio, November 14, 2013, 6:00 am

Cliff Jumper Dies at Hermit Falls in Angeles National Forest
by Zach Behrens, KCET Social Wander, November 12, 2013, 11:58 AM



News Stories at Dan's Hiking Pages | Hermit Falls Hike Description