| | |
| --- | --- |
| | The official website for Dan Simpson and Family of Azusa, CA |
| | |
| | |
| | |
| | |
| | |
| | |
| | |
Fight Spam!

SimpsonCity.com
The Online Home of Dan Simpson and Family




Contact Us



Email Dan Simpson: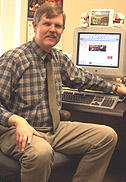 Notice that this address is displayed as a graphic rather than text. You'll need to type the address into your email client. Sorry for the inconvenience, but this is the best way I know to reduce the risk of my address being harvested by a spider and added to a spam list.



Guidelines for Emailing Me:

- Mind the subject. Compose a subject line which will differientiate your message from spam. In other words, be specific enough so that I don't inadvertantly delate your message with all the junk mail.
- Return the courtesy. I usually respond to all my email between 24 to 48 hours. If I make the effort to reply to you, at least respond back with a thank you.
- Guard my address. You may use my address to email me, but I do not wish to have my address circulated to others. In other words, if you put me on your group list, hide the recipients.



Sign Our Guest Book:

Sign | View



Home | Family | Career | Forum | Links | Contact

Dan's Hiking Pages | Knowing God



Entire contents © 1999-2006 Daniel E. Simpson
This page was last updated June 24, 2006.